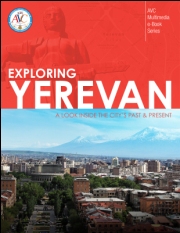 More than 12,000 AVC e-Book Users in 2015
AVC Multimedia e-Book Series, with its two e-publications to date, have attracted over 12,000 readers in 2015. With the number of downloads growing each day, the Series has become a pioneer of periodical e-publications in the field of Armenian Studies.
Thee-Book series' goal was to educate the entire Armenian Diaspora, as well as anyone else who wanted to learn about Armenia...

---
Hidden Armenians of Turkey Partner with AVC

On August 5, 2015, AVC hosted a group of 80 hidden Armenians from Turkey who were visiting Armenia within the framework of Armenian Diaspora Ministry's Ari Tun project. By revealing their national identities, they were seeking opportunities and means of returning to the language, culture, and history of their ancestors. In this context, what the AVC online provides is a perfect match to assist them during their rediscovery ...
---
Call of the Blood

Being 1/8th Armenian, Lindsay Peckham always recalls having an interest in all things Armenian due to her close relationship with her paternal grandmother. Her father instilled in both her and her brothers a great sense of pride in being Armenian early on, and would often tell them intriguing stories of their Armenian great-grandfather
Lindsay lives just 30 minutes south of Watertown, MA, where there is a large Armenian community...
---
AVC Founder Visits Historic City of Armenopolis, Transylvania

During a trip to Romania AVC Founder Dr. Yervant Zorian paid a visit to the historic city of Armenopolis (currently Gherla) established by Armenians three centuries ago in Transylvania, Romania. He met with the religious leader of Armenopolis and representatives of the Armenian community at the St. Solomon Armenian Church.
The Armenians of Gherla welcomed Dr. Zorian's visit and were enthusiastic to learn of AVC's activities...
---
Gulbenkian and INALCO Conference Includes AVC

AVC Academic Director Dr. Hasmik Khalapyan presented AVC at an international conference entitled "Innovations in Education: Challenges in Teaching Western Armenian in the 21st Century."
The conference was co-organized by the Calouste Gulbenkian Foundation and INALCO (National Institute of Oriental Languages and Cultures) of Paris, France...
---
Strada Armeneasca 2015 Festival in Bucharest, Romania Features AVC

This year AGBU Armenian Virtual College was among the Armenian projects displayed at Strada Armeneasca Festival of Romanian Armenians. Held between August 7 to 9 on the Armenian Street in Bucharest, Romania, for the third time since its foundation, AVC was displayed in the calligraphy booth along where the Armenian Alphabet. The showcase of the Armenian letters and ...
---
Eminent e-Learning Experts Fascinated by AVC Experience

On September 24, 2015, notable experts of e-learning visited AGBU Armenian Virtual College to learn more about AVC operation and programs, share with their expertise and discuss prospects of possible collaboration.
AVC Founder Yervant Zorian, Academic Director Hasmik Khalapyan and Technical Director Artur Avagyan presented the program to the experts, as well as the online learning tools...
---
Ari Tun Project Concludes Annual Visits to AGBU Armenian Virtual College

Over 800 young students visited AVC this summer within the Ari Tun project of Armenian Ministry of Diaspora. The visits organized through six groups throughout the three months of summer, was a part of the long-term partnership between the Ministry of Diaspora and AVC in an effort to spread the word about the unique educational opportunities that AVC offers through its online courses and electronic books...
---
Keynote Talk at IEEE CSIT Features AVC e-Learning

On September 29, 2015 Prof. Samvel Shoukourian, Member of the AVC Board of Trustees and Dr. Yervant Zorian, AVC Founder were invited to give a keynote talk at the 10th International Conference on Computer Science and Information Technologies (CSIT'2015) held at the American University of Armenia, Yerevan, Armenia ...
---
Yerevan AGBU Summer Interns Complete AVC Hybrid Course

During a nine week program that started at the midst of July and ended in August 2015, participants of the AGBU Yerevan Summer Internship Program took a hybrid (blended) course of Western Armenian. For three successive years, AVC has been offering the Summer Language School for YSIP program to help students acquire and develop their Armenian language skills...
---
Jerusalem Armenian Community Embraces AVC

During his trip to Jerusalem, AVC Founder Dr. Yervant Zorian visited the Armenian Quarter to meet with the Armenian community representatives and present AVC activities and mission.
Yervant Zorian had a prolific meeting with Patriarch Nourhan Manougian of Jerusalem. The Patriarch expressed appreciation for the work AVC carried out and noted its significance for the Armenian community worldwide...
---
Dallas, Texas to Leverage AVC in Saturday Schools

After months of discussion on prospects of collaboration between AVC and the St. Sarkis Saturday School of Dallas, Texas, Principal Maral Aznavour visited AVC on July 23, 2015. The meeting finalized partnership plans. As an outcome of discussions, the school is to adopt AVC courses in its curricula in academic term Fall 2015.
Maral Aznavour had known about the AVC program long before the meeting and used this chance to expand her knowledge about AVC offerings even more...
---
TUMO Summer Camp Participants Get Familiarized with AVC

On July 24, 2015, AGBU Armenian Virtual College was hosted at Tumo Center for Creative Technologies to present its programs to the Annual Summer Camp participants. AVC Academic Director Dr. Hasmik Khalapyan presented AVC, its activities and products to the young audience which was received with great enthusiasm.
The participants showed a keen interest, specifically in AVC's latest innovative e-Book series...
---
London AGBU Summer Interns Meet AVC Founder

On July 24, 2015, AVC Founder Dr. Yervant Zorian had a meeting with the participants of AGBU's London Summer Internship Program. Dr. Zorian shared his professional experience with the interns, spoke to them about AVC's mission and activities, as well as other AGBU projects, and provided advice to the young members related with their future career path. ...
---
Bulgaria Continues Collaboration with AVC

Sonia Avakian-Bedrossian, the Chairperson of the AGBU Sofia Chapter and Richard Makinadjian from Marcel, France were at AVC on September 28, 2015, to discuss the success of AVC hybrid (blended) education program in the AGBU Sofia Hayler Sunday School, and further collaboration perspectives.
The successful implementation of the AVC blended education system in Hayler School since the winter of 2014—with twenty students...