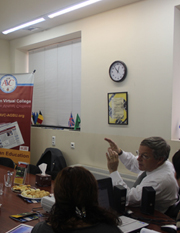 The U.S. Ambassador to Armenia John A. Heffern Visited AGBU AVC
"Hi, I am representing the U.S. Government in Armenia", said the U.S. Ambassador to Armenia John Heffern, as he exchanged a few words with Karmoon Khoo, a Singaporean girl from Australia, who has been learning Armenian at AVC for several months.
John Heffern visited Armenian Virtual College on the 24th of November ...

---
---
Chess in Schools International Conference Hosts AVC

On October 17, Armenian Virtual College participated in the Chess in Schools international conference, where they presented their model of chess education that has already been compulsory in Armenian schools for several years.
The Ministry of Education and Science ...
---
AVC TV School Aired on the Public TV Channel

The AGBU Armenian Virtual College, in collaboration with the RA Ministry of Diaspora, presents the AVC TV School project, which is aired on the Armenian Public Satellite TV Channel.
The project aims to provide a wider opportunity for English-speaking children and adults to learn the Armenian language, starting from the alphabet ...
---
---
AGBU Cairo Launched AVC Chess Class

The office of the AGBU Cairo chapter opened a new chess classroom on October 17 of this year, where many community members study. The chess classroom initiative began due to the tireless efforts of the Cairo AGBU office, the entire AVC team, and AVC representative Anna Dolabjyan. Today there are 12 students in the class, but many more students ...
---
The Armenian Highland e-Book Presentation for 150 Yerevan School Principals

On October 16, Founder and President of the Armenian Virtual College (AVC) Dr. Yervant Zorian presented the latest innovation of the AVC, the Multimedia e-Book Series, to the school principals of Yerevan city. The event was attended by more than 150 school principals and many interested participants ...
---
From Hybrid To Hye-breed at AGBU Sofia

The AGBU Armenian Virtual College Hybrid School Program proves to be a successful educational concept with more and more schools welcoming the innovative approach of educating Armenian children in the Diaspora. The program employs a blend of traditional and online education - the students actually attend community ...
---
Peace Corps Armenia - A Long-Term Partner with AVC

Since 2010 volunteers from the Peace Corps have been enrolling in AVC Armenian language courses individually. Through a formal partnership between AVC and Peace Corps, groups of volunteers from Peace Corps Armenia have joined AVC since Spring Term 2013. The language learning experience with AVC has ...
---